---
by Amy Stark

As a mom to an energetic two year old, I know how hard it can be to juggle everything in  life. From thinking about your child, to daycare, to work, to doing household chores, the list could go on forever.   If you're a mom like me, the last person you really think about is yourself.
Finding the time to work out and eat healthy can feel impossible some days. Sometimes, I wonder, "who really has time to work out? But, then I take a step back and look at the bigger picture. It's not about losing weight or being skinny. It's about being a great mom and a role model for your child.
3 Generations of Healthy Living
I am very fortunate to have grown up with two parents who, at an early age, showed me the importance of eating healthy and being active. My dad has always been an avid runner. And, some of my earliest memories are of my mom going to her Jazzercise classes. I remember watching my mom do weights and core workouts at home, and sometimes joining in with her! Fresh fruit was always available in our house, and sports were a way of life.   I'll never forget going to the mall or grocery store with my mom.  She would drive off to find one of the farthest parking spots and say, "Isn't this great? We've already parked, and we're getting exercise!"  Any time we had the chance, we always took the stairs instead of an elevator.   As a child, there were times I used to think, "Are you crazy? Look at all those empty parking spots!" As a kid, I had no idea what an impact it would have on me and my daughter's lives. Now, I see that she was really on to something.
Turn Playtime into a Workout

Not only are we great role models for our children, but we can learn a lot from them, too.  When most adults think about exercise, they imagine working out in the gym, on a treadmill or lifting weights.  But for kids, exercise means playing, being physically active, and having fun.
I'm enjoying this stage of my daughter Chloe's life so much. She is at a point where she is starting to talk, as well as being more aware of her environment and the people around her.  One morning, I was doing push-ups and Chloe got right up next to me, put her butt up, in the air and tried to do a couple of  push-ups on her own.  It looked more like a downward dog yoga position, or like she got stuck trying to do a somersault.  But, it really made my day because I realized she is really watching me. Recently, Chloe tried doing squats next to me, although it looks more like she's doing a new dance move.  Then, I laugh and think to myself,  "Maybe I look like that!"  We turned our squats into new dance moves and really get our heart rates up—all while having a great time.
My daughter Chloe is a runner and she loves it.  I mean she just lights up with the biggest smile on her face when she hears we are going to go outside.  In fact, not only does she grab her little Nike shoes, but she will go grab my shoes and try to put them on me.  One morning, I didn't feel like going outside to chase Chloe around. But, she brought me my running shoes and told me she wanted me to go running.  How could I say no to that?
The thing about Chloe is that she doesn't see running around and playing as exercise.  It's just a way for her and I to have fun! And, I've found there are so many unique ways you can turn playtime with your family into a great workout.
Get your Kids on The Road to Wellness

While I personally recognize the importance of exercise and nutrition, I went on-line to see what the experts say. All of the sites ranging from Dr. Brazelton, a renowned pediatrician, to the President's Council on Fitness, Sports, and Nutrition, say that physical activity is crucial to a child's health and well-being. Studies show that physical activity at a young age helps kids stay healthy throughout their lives and even have a better outlook on life.  Besides enjoying the health benefits of regular exercise, kids who are physically fit sleep better and are better able to handle physical and emotional challenges — from running to catch a bus, to studying for their next test.
Be a Super Mom

At the end of the day, it really is about integrating small changes and healthy behaviors into our everyday lifestyle.  I always say, "Anything is better than nothing," because that 5 or 10 minutes of being active here and there really adds up over months, and even years.  To me, living for wellness isn't about the number on the scale–it's about living a happy and healthy lifestyle that you can share with your family. Being the best mom I can be to Chloe is what drives me. That means taking care of myself, being healthy, and being a great role model for her. All of these things help make me a super mom and someday will make Chloe a super mom, too.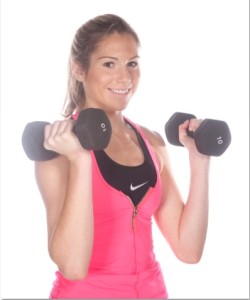 Amy Stark is a graduate of the College of Charleston. She is an avid runner, swimmer, personal trainer, and super mom. She competes (and wins) in several DC area races year-round. Both Amy and Chloe reside in Fairfax, VA.

---